GEOPAT® is a registered brand name, which is also popularly known. GEOPAT® is sometimes called polyflakes or geotextile chips and consists of a geotextile chip with an average size of 2 cm².
This chip is drawn from an unwoven geotextile cloth. GEOPAT®retains 20% moisture, so your equestrain surface stays moisturized longer, which is ideal for a dressage or jumping surface.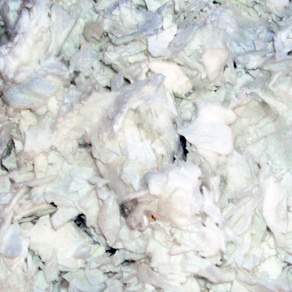 Depending on the type of sand and the irrigation, 2 to 3 kg per m² is mixed in the sand.
The application of Geo textile fibers, also called polyflakes, applies to arena surfaces manufactured partially or entirely of fiber chips, and in particular fiber materials: these are synthetic materials whose fibers, threads or filaments are crossed over in the longitudinal and transverse directions (two dimensional). Generally this is referred to as a non-woven cloth.
The fiber materials of the geotextile system serve as a stabilizing surface and are chiefly used in the roads and waterways construction industry. One of the main requirements is that the geotextile system technically qualifies for trouble free use after prolonged contact with water or excrements and that it is preferably made of plastic materials that can also be used in conjunction with foods.
Subject requirement conforming geotextile materials are extremely strong and non-biodegradable. They are manufactured from plastics such as polyester fibers (e.g. polyethylene terephthalate), acryl fibers, polyamide fibers and/or polyalkeen fibers (such as polypropylene or polyethelene). Conforming the requirements, only fibers are used that are made of such plastics that can also be used in the food industry and, consequently, pose no threat to the ground water.
Handling
It is necessary that you have a perfect mixture for an ideal structure of your soil. Preferably the blend consists of 2 to 3 kg GEOPAT® per m2 top cover. GEOPAT® is to be spread over the entire arena, either manually or mechanically. Use a rotary how to have the geotextile product mix with the top surface for a prolonged period. This has to be done cm by cm until the required depth is reached. Then the riding track needs to be sufficiently irrigated with water. Using the right mixing ratio, applying the right product and relying on the assistance of the right person will enable you to obtain maximum dependability and safety in placing your riding surface.
Quality
GEOPAT® is shipped to you in pressed bales. Pay attention to the quality of the geotextile fibers. Presently, there is an uncontrolled growth of geotextile fibers while not every geotextile fiber is suited for its purpose or the original product. Based on his experience, Ivan Peeters has a great command of expert knowledge and is in a position to help you make your selection. You will receive a product complying with highest quality standards and not simply a white piece of cloth which won't last for much longer than a year.
Stabilization
In many cases people prefer to have their equestrian surface extra strong, this particularly applies to jumping arenas and small paddocks where you have a lot of free jumping action.
In order to provide extra bearing capability and stability to the surface in view of the fact that it has to withstand quite a number of obstacles in a riding course, a certain percentage of fibers has to be added.
These are thin extruded fibers of approx. 3 to 4 cm. They do not serve to keep the moisture but to create an even better blend of the sand and GEOPAT® (looks like thin hair).
A Question?
A Question? Call or email us
+31 624205560
Shopping cart
No items in shopping cart.